Hair Transplantation in Women
Special hair transplant application that does not require shaving for women
The hair loss is not common for men only, but also for women. Natural masks, shampoos or vitamin supplements could work to deal with female hair loss, however these do not always help. Partial baldness might happen when female hair loss is not treated. This unpleasant look could lead to aesthetical problems as well as psychological disorders.
Female Hair Loss, Causes?
A variety of causes could lead to female hair loss. The most common is genetic related, known as Androgenetic Alopecia, developing slow and gradual hair thinning. This results exposure in the crown and expand on the parting line.
Diabetes, insulin resistance, thyroid diseases and physical stress after major surgeries might cause female hair loss as well as medication side effects.
Malnourishment, iron deficiency, strict diets, lack of zinc, B12, vitamin D, biotin, folic acid, omega 3& 6 might also cause hair loss.
It is also common to experience hair loss after giving birth due to hormonal changes during pregnancy.
Diseases like eczema, lichen, psoriasis, acne keloid and lupus might cause hair falling or permanent hair loss.   
Excessive dying, brushing, hair pulling; low quality hair care products and psychological conditions may also result hair loss.
No-Shave Hair Transplant
This method suits to those individuals who do not want a full shave before a hair transplant or to the ones who do not want to wait longer for hair regrowth. After such a no-shave procedure, patients can follow their daily routine right away. Especially ideal to provide comfort for long haired individuals if their exposure is convenient for such a procedure.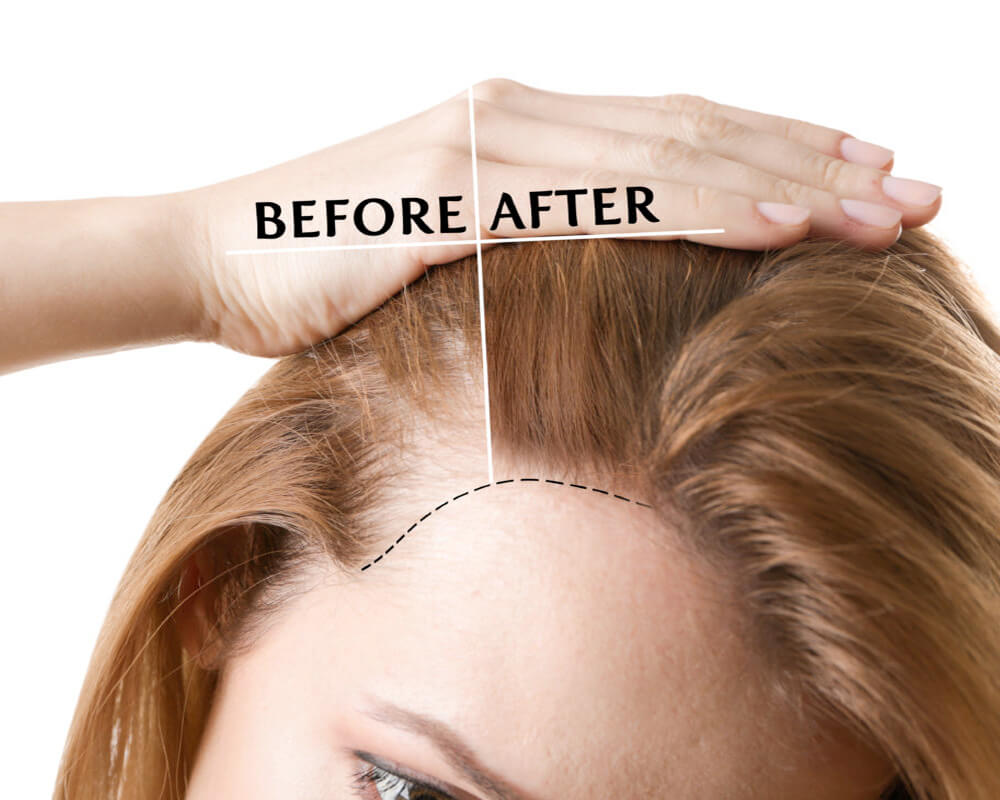 Female Hair Tranplant, How?
There are many approaches while delivering hair transplant. One of the most preferred one for female hair transplant is no-shave procedure. With this, hair transplant is not visible to others and there is no cease for patient's daily routine.
Only a small horizontal area in rectangular shape is shaved in the back of the scalp. Follicular Units-FUs (grafts) are extracted from this donor area using FUE harvest technique and then are transplanted into the exposed area on the top. Sapphire FUE allows very dense micro incisions per centimeter square..
Recovery After No-Shave Hair Transplant
All general post-op instructions are also valid for a no-shave transplant.The patient should strictly follow those instructions in order to care/wash and protect transplanted hair during post-op period. Sleeping in a slightly elevated position for the following 3 days after the procedure is advised as awell as avoiding scratching, smoking and alcohol consumption. Transplanted hairs will start to show regrowth by the 3rd month after the procedure. Although there will be a certain amount of regrowth in place by the 6th month, the desired final results will be in place soonest 1 year after.